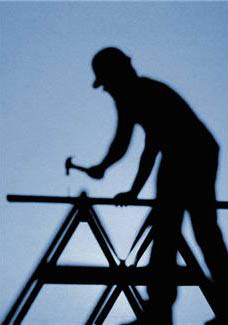 An NVQ (National Vocational Qualification) is a work-based qualification that involves a person being assessed within a working environment. It is not possible to achieve an NVQ through a training course or programme, with awarded individuals only receiving their qualification after demonstrating and proving their competency within their job role, on-site and under assessment from fully qualified assessors.
There are a number of levels to attain within the NVQ framework. Level One is the foundation level, Level Two is a Skilled Trades level; the Level Three qualification is for Supervisory Roles and Level Four and above concern Management qualifications.
Site Carpentry Level 2 NVQ
This specific NVQ qualification is for those carpenters who are looking to carry out professional site carpentry duties. Even the most experienced carpenters cannot work on site until they have achieved an NVQ Level 2 in Site Carpentry, and this course is open to those people with three or more years of experience in a general site environment. The course is designed to be delivered effectively within a working environment. Any applicants will have to be employed, in order to be assessed as they work. The qualification recognises the skills, knowledge and competency an individual displays on the job. Upon completion it provides access to work within wood occupations and site carpentry within the construction industry. It also allows access to further qualifications within the NVQ framework.
Who Should Take the Site Carpentry Level 2 NVQ?
All carpenters that are working on construction sites will have to hold a valid NVQ Level 2 in Site Carpentry before they are permitted access. This course provides the requisite qualifications and allows you to commence with your working opportunities within a short timeframe. For those individuals with no experience in carpentry, but who are looking to get into the industry, this course is not suitable. Instead they should look toward entry-level carpentry courses and work their way through the course list.
What Skills are Taught on this NVQ Course?
The NVQ Level 2 for Site Carpentry provides a support network to the learner, providing the fundamental practical skills that can be transferred to various carpentry roles on site. The course teaches the skills through the following mandatory units:
– General Health, Safety and Welfare in the Workplace
– Productive Working Practices in the Workplace
– Moving, Handling and Storing Resources in the Workplace
In addition to the three mandatory teachable units there are also key skills available through a number of optional units:
– Installing First Fixing Components in the Workplace
– Installing Second Fixing Components in the Workplace
– Erecting Structural Carcassing Components in the Workplace
– Maintaining Non-structural Carpentry Work in the Workplace
– Setting Up and Using Transportable Cutting and Shaping Machines in the Workplace
How is the NVQ Course Assessed?
The whole point of an NVQ course is that they are assessed through on the job application of skills and knowledge. An assessor will mark an individual against set performance and competency statements put together by the National Occupational Standards, in order to assess the individual's suitability to the occupation. The assessor, who will also continue to visit and help the applicant with on-the-job training and assessments, will put a learning plan together. Alongside this each individual will have to display evidence of their work in the form of photographs and references from other trades. Once enough competency has been built-up and displayed the awarding of the NVQ will be conducted.
Next Step After Site Carpentry Level 2 NVQ
Once you have completed your Site Carpentry Level 2 NVQ you will have the foundation of knowledge, skills and understanding to progress onto Level 3 NVQ in Wood Occupations.