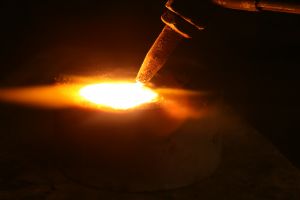 In order to get your Welder CSCS Card you will need to pass the CSCS Health, Safety & Environment Test appropriate to your trade. The CSCS Card is evidence both that you have achieved a pass mark in the Health, Safety & Environment Test and that you have passed your Welder NVQ at the Level commensurate with the position you hold.
There are three steps to follow when you apply for your Welder CSCS Card. First, you need to make sure you have achieved the Welder NVQ: Level 1 for a Trainee (Red) Welder Card; NVQ Level 2 for a Blue (Skilled Worker) Welder Card; and NVQ Level 3 for a Gold (Highly Skilled Worker or Supervisor) Welder Card. When you achieve Welder NVQ Level 4 or higher you will be eligible for a Black Manager's Card.
Second, you need to book your Welder CSCS Test. There are several different Health, Safety & Environment Tests, appropriate to different trades and roles in a UK building site. Make sure you book the right one.
The third step to a Welder CSCS Card is your application. You need to provide the appropriate documentation (a valid form of current photo ID, proof of address and your CSCS Health, Safety & Environment Test pass). You can get information from Construction Support Line about the documentation you need to provide, including documentation that proves you have passed the Welder NVQ to the correct Level.
The Welder CSCS Card and the Welder NVQ
The Welder CSCS Card is colour matched to your Welder NVQ Levels (as noted above). It's an instant way for your employer and site manager to check your level of qualification, competence and skill in the Welding role that you perform. The Welder NVQ is structured so that each Level covers an industry recognised standard of improving knowledge, skills and problem solving abilities. You'll be assessed for your NVQ by a qualified On Site Assessor whose role is to observe you work and pass you for each NVQ module as you display the skills necessary for it to be marked as completed.
UK construction sites are becoming more and more reluctant to employ any Welder without the Welder CSCS Card. The Card is only available to Welders who have passed the CSCS Health, Safety & Environment Test, which means it is evidence of due diligence on your employer's part, as well as evidence of your ability to do the job to the standard expected of you. If you want the best roles in the Welding trade, you need to make sure you have the Welder Card that shoes the right colour for your level of competence.
How Your Welder CSCS Card Works
The Welder CSCS Card is endorsed with all the qualifications you hold, including your CSCS Health, Safety & Environment Test. It shows your photograph; your registration number; your name and the expiry date of the Card. There's a data Chip on it, which contains an electronic copy of all that information. Your manager or site owner is able to check instantly that you are who you say you are. That makes the Welder CSCS Card more than just evidence of your competence – it's also a security measure for the site itself.