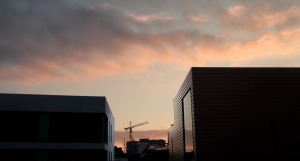 Working in construction offers many different career paths and a multitude of different occupations. But getting qualified in whichever construction job role you choose is now more important than ever. If you wish to move forward and progress in your occupation then you will need a good balance of practical experience and qualifications; an NVQ can offer you this.
The NVQ – the Construction Industry Standard
The National Vocational Qualification, or the NVQ, is considered the industry standard in the construction business. The scheme is popular with both employers and trainees as its flexibility allows learners to work and study at the same time.
The majority of NVQ's are completed by candidates who are training under an Apprenticeship.  During your Apprenticeship your time may be split between working on site learning your chosen occupation and studying the fundamental elements of that occupation, usually at a college or NVQ training centre.
An NVQ is a great way to learn a construction craft and there many construction NVQ's available for a wide variety of trades including; carpentry, plastering, scaffolding, stone masonry, bricklaying, plumbing and many more.
There are multiple NVQ levels available from 1 to 5, 5 being the most advanced NVQ level. In order to progress to the more advanced NVQ levels you will need to complete and pass the lower levels first and also have sufficient practical experience in your chosen construction occupation.
Through studying an NVQ you will gain valuable practical experience whilst working toward an industry recognised qualification in the construction related occupation of your choice. When you have completed your NVQ it is likely that your career opportunities and pay scale will increase.
The Essential Benefits of Holding a Construction Related NVQ
By completing a Construction NVQ in your chosen field you will be recognised as a qualified member of the workforce, this means you will eligible for the CSCS card scheme or one of the affiliated card schemes. Possession of a CSCS card or an Affiliate CSCS card is essential for gaining site access in the UK, and it will also assist you in your career progression and employability level.
You won't be able to apply for a renewable CSCS card without an industry recognised qualification and therefore your access to construction sites will be severely restricted, thus affecting the job opportunities you are eligible for.  At present over 80% of UK construction sites are complying with the CSCS card scheme, so no card means no access, and no qualification means no card!
It is more important than ever to get qualified so find out about the vast and varied construction NVQ's today and train towards a brighter more successful future in construction.