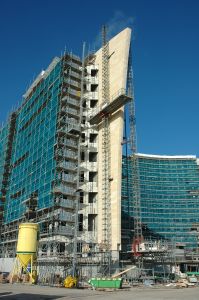 Glasgow's east end is being completely regenerated with a £10m project. The plan is to complete 6,800 square feet of offices which is the first phase of a proposal for Clyde Gateway. The companies awarded the contracts are looking for local residents to assist with the work, and plumbers, painters, and carpenters with an NVQ in Glasgow will most definitely be first in line.
Glasgow Project Overview
A £10m assignment indicates some extensive work to be done. The east end of Glasgow is going to be a totally new area once this Clyde Gateway project has been fully completed. The transformation is partially linked to other developments taking place for the Commonwealth Games coming to Glasgow in 2014.
The project is expected to be completed and the office open for business in April of next year. Though this building is going to be the home of the Glasgow Community and Safety Services who already have a 20 year lease, it is only just the beginning. The entire Clyde Gateway covers 840 hectares of area and is one of Scotland's top priority areas for renewal. The first plans for this project were originally begun in 2007. The overall ambition is to completely regenerate the East end as well as part of South Lanarkshire over the next 20 years.
Glasgow Construction NVQ Holders Will Fill in First
The office building is only just the beginning and with plans for a 20 year project, construction professionals would be wise to get themselves involved as soon as possible. Project winners extending work to people outside of their own companies is relatively unheard of; those with a Plumbing NVQ, Painting NVQ, or NVQ in Carpentry in Glasgow especially should be taking advantage of the opportunity.
£10m is a substantial amount of money and much faith and trust is being put into the companies at the forefront of the construction. It's safe to assume that not just any workers will be given positions, and the companies will expect and accept only the best of the best. Unfortunately, simply stating that you are the best will likely not be enough—the best proof you can provide is an NVQ. A Plumbing NVQ, Carpentry NVQ, or Painting NVQ is concrete evidence that you have been proven competent to handle the safety needs and technical requirements that will be needed.
Acting now and getting your construction NVQ before major projects like these are underway will ensure that you are one of the best possible candidates for the job. You cannot and will not be hired based on your good word alone; your construction NVQ will speak for you.