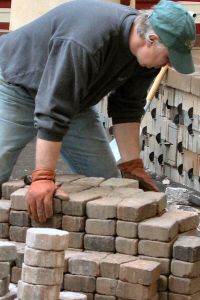 The Bricklayer CSCS Card is essential to achieving the role you desire in the construction industry. Like all trades in the UK building sector, bricklaying is now competence assessed through the NVQ scheme – and has stringent health and safety requirements that must be covered too. Your Bricklayer CSCS Card is evidence that you have achieved the Bricklayer NVQ to the required Level for your current position (and of course for positions you are going to apply for); and that you have passed a CSCS Health, Safety & Environment Test.
The CSCS Health, Safety & Environment Test and the Bricklayer CSCS Card
The Bricklayer CSCS Card is contingent on passing the Bricklayer CSCS Test – an industry wide standard, which ensures that you have attained an approved level of health and safety knowledge in the areas appropriate to your trade. Passing a Bricklayer CSCS Test is normally required for the possession of every type of CSCS Bricklayer Card: though if you have completed the relevant Bricklayer NVQ Level within the last two years you may be exempt. The Bricklayer NVQ contains a Health and Safety Component, which is in some cases sufficient to be seen as equal to a CSCS Health, Safety & Environment Test pass.
The Bricklayer NVQ and the Bricklayer CSCS Card
The Bricklayer NVQ is imperative for all bricklayers and related trade positions. Even if you have many years' experience in the trade, right up to management level, you will be required to pass the correct Level of Bricklayer NVQ for the Bricklayer CSCS Card you need. NVQ allows the UK construction industry to measure competence and skill through all its trades, so as a manager you will need to qualify for the Bricklayer NVQ Level 4 or 5.
You can apply for a Red CSCS Bricklayer Card while you complete the appropriate NVQ training. Your Bricklayer NVQ can be assessed on the job, so you neither lose time nor money while you are achieving your qualification. As a manager, you would be eligible for the Black Bricklayer CSCS Card once you had achieved NVQ Level 4 or above.
The CSCS Bricklayer Card: Colours
Like all CSCS Cards, the CSCS Bricklayer Card is available in different colours according to the Level of NVQ achievement you have reached. As such, the Bricklaying CSCS Cards represent a traceable path through the levels of your career. The Red CSCS Bricklayer Card is for Trainees, who are enrolled in Bricklaying NVQ courses that will give them Levels 2, 3, 4, or 5 depending on their position and the colour of CSCS Card they are ultimately looking for.
The Blue and Gold CSCS Bricklayer Cards are for Skilled Workers and Supervisors respectively. It is possible to hold a Gold CSCS Bricklayer Card without being a Supervisor: the Supervisor endorsement is contingent on your job title.
The Black CSCS Bricklayer Card is for Managers, who have achieved a Bricklaying NVQ Level 4 or 5.