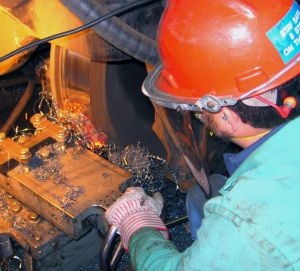 Back in the day, anyone with a toolbox could show up on a construction site and be put to work immediately; no training required.  Luckily, the importance of safety and proper training has been brought to the forefront and governments are doing all they can to enforce strict rules to ensure the safety of construction workers.  In Manchester, one company is beginning a program of its own that will hopefully spread like wildfire.
Meeting Construction Safety Goals in Manchester
MC Construction of Manchester is known for the major projects they complete, their quality workmanship, and the calibre of employees they keep staffed. Last year, MC came out and said that they had accomplished yet another goal and it had nothing to do with meeting project deadlines.
In July of 2010, MC Construction announced that every single member of their staff had been awarded their CSCS card. Each member of the MC personnel completed the training necessary to be awarded a CSCS card that was relevant to their position, and contracts director Ian Lowe stated that this was just the beginning. They are planning to extend the program to their supply chains and encouraging each of those employees to become CSCS certified as well. The ultimate goal is for every employee of MC Construction, regardless of their position, to have this certification.
Lowe stated that they feel they can offer their clients something unique by having an entire workforce that holds this certification. He feels it is an excellent way to portray the competency of their employees to their clients and let them know that they are a cut above the rest.
Similar Goals for Construction NVQ in Manchester
If a company as large as MC Construction can get every single employee to become CSCS certified, it should be easy for smaller Manchester companies to do the same. But why stop there? Companies can and should be creating programs to encourage their employees to receive their Manchester Construction NVQ as well. Considerably high risk professions such as roofing, electrics, and welding especially should be developing these programs.
If every high risk worker in Manchester held a Roofing NVQ, Electrical NVQ, or Welding NVQ, clients and companies alike would feel more comfortable allowing them on job sites. While all construction trades can be dangerous, these are even more so and concrete proof of competency would put clients at ease when a worker is completing a particularly dangerous job for them.
An NVQ in roofing, electrics or welding in Manchester are all so simple to obtain that there really is no reason why Manchester companies should not only encourage employees to get them, but make it a mandatory part of employment.  By having an entire company full of certified workers, your company becomes elite and can offer something that no other can—nothing else could set you apart as much as this.